Bon swa TeamOne27 Supporters: April 8, 2021
Kidnappings continue to escalate here in Haiti. One of the most recent involved the capture of four members of the Diquini Seventh Day Adventist Church, across the street from our Port-au-Prince orphanage, including the Sr. Pastor. The original "asking price" for their safe return was 2 million dollars USD. Their return was safely arranged, but the final agreed price is unknown to us at this time.
The elementary school we hold weekdays at our P-au-P facility continues each day, but Marjorie Jean does her duties as principal from a distance, as it is not considered safe for here to be seen in public. She could easily become a target for kidnappers due to her recognition as the wife of Pastor Daniel Jean.
Travel within the country is problematic but not impossible. One must carefully choose time of day, mode of transport, and number of people in travel party. I have been able to travel to Haiti safely each month since the Covid restriction was lifted back in September 2020. The costs of travel have increased, both due to rising airfares and covid testing requirements. One must test negative within three days of departure from the USA and again within three days of returning to the USA. Testing alone creates an additional cost of $ 224.00 USD per person.
Mission teams from outside Haiti continue to come here, but only with increased security and solid faith in God's continued protection.
Our Les Cayes facility is safe and productive, with school for the first six grade levels being held daily. Life in the country provides cleaner and more relaxed living conditions than here in Port-au-Prince. Our children thrive there.
We are in the process of shipping our 28th vehicle (photo below) full of food and school supplies to Haiti. The project was largely funded by Genoa Baptist Church in Ohio. It is a stake truck that will eventually be added to our growing fleet of vehicles in Haiti that create local employment and cash flow to help fund Divine Ministries in Hope for Haitian Children.
One major project we are pursuing is to purchase a large
plot of land near the border with the Dominican Republic. Land is cheaper there and food and other items can be purchased more economically, as they have a shorter transit cost from their origin in the DR. The Port-au-Prince airport is still accessible from there and it will provide a more urban environment for our children and staff.
We are pursuing the purchase of some of the buildings that were built by the German Unicef Ministry in preparation for the projected Covid-19 Haitian epidemic. In retrospect, none of the buildings were ever used – not even one patient was ever admitted there! They were solidly built of wood framing with a metal roof and could be easily disassembled and relocated to whatever site the Lord provides for us. We anticipate needing about $100.000 USD to purchase the land and would welcome donations and/or mission teams to help in the construction of this new orphanage site. It would relieve us of the annual rental charges we have always paid in Port-au-Prince for two locations: one for girls and one for boys.
We recently bought two treadle sewing machines (no electricity needed) so those of our students who have continued their sewing studies can create income by accepting outside sewing projects. The Taptap (think pickup truck taxi) we purchased last Fall is now operational on a limited basis, and will be increasingly utilized as conditions improve and protests abate.
President Jovenel is still in office, but elections are planned for later this year. By God's grace, the future administration will be more acceptable to the local populace and more dedica
ted to the needs of the hurting masses.
If you have tried to access the TeamOne27 website lately you will have discovered we have been the victim of malevolent hackers. In response, our website has been completely wiped out and we are in the process of rebuilding it with additional protections against hacking. Unfortunately, those who are skilled in technology but lack decent morals will continue to attempt to destroy things they can not appreciate as helpful, productive and good. But God is our defender and we know how the story ends!
Thank you for your continued prayers and other forms of support for this ministry. May God richly bless you, your families, and your relationship with Christ, through the power and presence of His Holy Spirit.
Your brother in Christ,
Mark Gillette, TeamOne27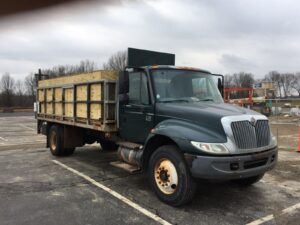 Read more...
---