Re-Connecting with Haiti
TeamOne27 has continued our work in Haiti from a distance… we have been unable to visit the troubled nation since July 2021, primarily due to gang violence and control of the city of Port au Prince.
Brudda' Mark Gillette has just returned from his first visit since then and was able to see first-hand the ongoing work of Divine Ministries in Hope for Children as led by Pastor Daniel Jean.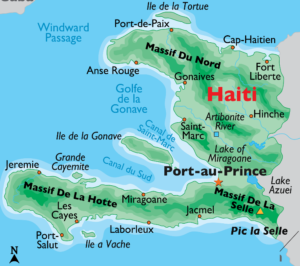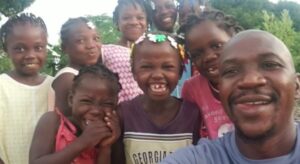 Gangs Still Causing Havoc!
Key segments of Port au Prince are still under gang control – the usual trip "across town" now requires a 4-5 hour journey into high lands and over rough roads – a 4 wheel-drive vehicle is a "must have".
The threat and danger of kidnapping is ever present but God continues to be "ever-present-er" – and faithful to care for His children!
Further Earthquakes
Before clean-up from one earthquake is completed, another occurs!
The magnitude 7.2 earthquake in August 2021 did much damage and had residents fearful of sleeping in buildings… just a few weeks ago, magnitude 5.3 and 5.1 earthquakes struck just an hour apart in the same general region along the southern "arm" of the island!
Even So…
Yes, we need to stay aware and alert… but we cannot shrink from the work that needs to be done… When our eyes and hearts are open, we see God's hand at every turn!
LIVESTOCK: Chickens, pigs and a cow have been "producing" in Les Cayes, helping to furnish food and income!
More detail is in Mark's most recent email update – if you did not receive this, please let us know; we're working hard to keep "our team" informed – so glad that you are a part of it!
Current & Specific Needs
In addition to the normal, on-going expenses of operating houses & schools, feeding the children, and paying our staff & for medical care (please see https://teamone27.org/budget-goals/ – annual budget of approximately $150,000), there are always significant projects that present themselves…
Solar Power: A large solar panel was destroyed in the August 17th earthquake; the related equipment is also in need of updates/upgrades. The system provides power for the compound including a water purification system which is a certain need for a healthy community. Repair estimate is $1,000 USD.
More kids means we need more benches!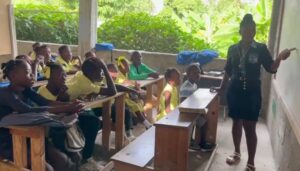 We recognize that it is all God's work and that He will supply what is needed – these details are provided so you can pray specifically & intentionally about the needs and seek God's direction on whether there is a role for you in meeting them.
Note: Most donors/partners give to our general budget which is used according to the priorities that Pastor Daniel Jean faces at the moment. Any designated donations are, of course, directed to the needs identified by the donor; however, if the designated need has been met through other donations, "excess" funds will be treated as undesignated and directed to the next priority. We trust this is an acceptable approach to our partners.
We welcome your prayers and financial support and are grateful for your partnership and concern for the work in Haiti.
Our Contact Information
TeamOne27
P.O. Box 78
Wernersville, PA 19565
(610) 451-1996
Web: teamone27.org
---